RUG CLEANING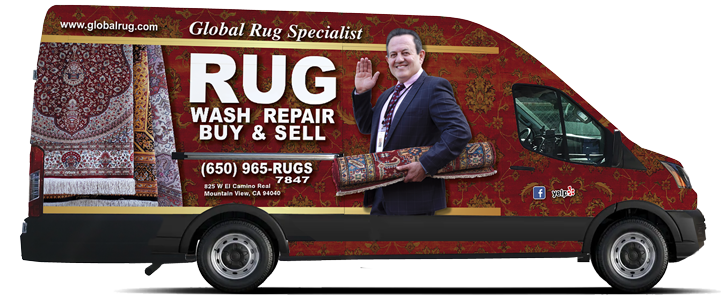 Even though your rug looks clean, normal settling of dust is abrasive and will shorten the life of your rug. We recommend rug cleaning every two years. It is also important to rotate it twice a year so your area rug get equal amount of traffic and light and wear evenly.

The area rug cleaning process we use involve  through and comprehensive stages.

First rugs are separated based on being hand made or machine made. Hand made rugs generally are more sensitive. Rug cleaning and rug cleaners.
The process of cleaning is as follows:
INSPECTION:
The rug is carefully inspected for damages (i.e. moth-eating, dry-rot, unraveling, or tearing), in the event of alarming damage. The customer is notified so further action could be taken to restore the pieces.

DUSTING:
This step is essential in cleaning hand knotted rugs. The reason is because the rug is built on a woven foundation, as dust gets soiled into the carpet, the foundation is susceptible to deterioration. By dusting the rug, the dust within the foundation is brought to surface to cleansed in the steps below.


SOAKING:
Soaking allows for the full saturation of the rug, this step breaks-up proteins to allow for the full removal of both stains and most odors.


SHAMPOOING:
Our shampoo is made from the finest natural animal fat, and specially designed to not only thoroughly cleanse the rug, yet also kill all bacteria in the pile and throughout the foundation.


RINSING:
By using jet pressured water, all shampoo is extinguished from the rug. This process is important because shampoo residue left in the foundation could cause damages to the wool.


CONDITIONING:
Wool is much like human hair, conditioning allows for the luster and softness to be enhanced as well as revitalizing colors in the rug.


DRYING:
After sending the rug through a ringer, it is hung in our drying room for an 8 hour period. This allows for all moisture to be released to again avoid any risk of dry-rot.


FRINGE CLEANING:
The fringe is given separate attention, a through soap and rinse leaves the fringe sparking white.


BRUSHING:
A through brushing is done to enhance the softness and consistency of the pile.